Atelier Mediums
Atelier Mediums are made from the highest quality acrylic polymers and binders. They are 100% compatible with all good quality acrylics.
Atelier Interactive can be used for standard acrylic painting techniques or kept open for longer blending time without the use of any special mediums - all you really need is water. However mediums can greatly enhance the versatility of the paint, making some techniques much easier, enjoyable and successful.
When using mediums with Atelier Interactive special consideration needs to be given as to how they change the way the paint dries. One group of mediums contains a traditional acrylic binder that tends to dry quickly and forms a tough waterproof skin - we refer to these as Traditional Mediums.
The other type are the Interactive Mediums which maintain or enhance the unique drying properties of the paint, allowing it to remain workable for even longer. These mediums give best results when used with Atelier Interactive - they can be mixed with standard acrylics but their effectiveness will be reduced.
Note: Mediums availability vary by location. Check with your preferred store for details.
Ateliers New Universal Medium/Varnish
Ateliers new Universal Medium is a medium and varnish rolled into one. It is so versatile that is almost replaces every medium that we have on offer. If you're looking to try a medium to see how it enhances your painting possibilities then Universal Medium is our recommendation.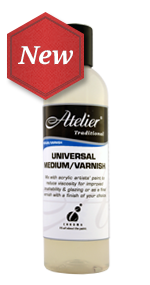 How To Use As a Medium
There are too many mediums on offer for use with acrylics. This medium does nearly all of the techniques that you could need if you are painting in fast quick layers. However, if you want heavy impasto you will still need to use Heavy Gel or Moulding Paste.
Decant some of the concentrate into a small container that you can dip your brush into.
You will like the feel of the paint when the medium is added to it and you will notice that it allows you to blend and feather edges very effectively because the medium is not sticky on the brush.
Small additions to thick paint will loosen the consistency while more medium creates a very attractive glazing or layering mixture which can be over painted when touch dry.
How To Use As A Varnish
Solvent based varnish has a strong smell because of the turps, but usually looks better than a water based one and is easy to apply.
The new Atelier Interactive Universal Medium/Varnish when used as a water based varnish is comparable to solvent varnish. It is very easy to apply. It gives the color saturation and enhancement of a good solvent based varnish. By adding water to the concentrate different levels of sheen can be created between low sheen and high gloss.
Artists should experiment with color swatches to decide on the finishes that they prefer.
Apply a seal coat one part varnish two parts water. This allows the varnish to penetrate and seal the paint layer so that a more concentrated varnish can be spread easily when the seal coat is dry.
If you want a high gloss finish the full concentrate can be used over the seal coat and two or more coats can be used to exaggerate gloss as required.
For a subtle finish you might decide that the seal coat is all that you need or you might apply another diluted coat to create a satin finish which is more attractive than a satin varnish containing a flatting agent.
How To Apply
Place your painting in a sloping position so that you can pick up the runs or dribbles. You can work back and forth while the varnish is wet because it does not catch on the brush.
Traditional Mediums
Dry fast & waterproof for standard acrylic techniques.

Gloss Medium
A general purpose mid viscosity medium that adds translucency and increases gloss. Ideal for glazing and extending colors. Promotes flow and levelling. Can be mixed with the paint as a medium or used to seal a paint layer before overpainting.

Glazing Liquid (Gloss)
A low viscosity medium perfect for creating translucent glazes. Slightly extends open time and is waterproof when dry. Mix with paint for added translucency with a rich oil-like gloss sheen. Promotes flow and levelling.

Fast Medium/Fixer
A low viscosity medium used for thin fast drying layering techniques. It can also be used on its own to seal and reinforce a paint layer in preparation for scratch back, glazing or varnishing.
Interactive Mediums
Maintain or enhance the re-wetting properties of Interactive.

Clear Painting Medium
A mid viscosity medium that allows paint to be diluted smoothly for glazing and blending techniques without altering sheen level. It has a high water content and will allow Atelier Interactive to remain workable for longer without the need to use a water sprayer.

Slow Medium
Extends wet-in-wet blending time and is designed to be used in conjunction with a water sprayer. It will tack up quite quickly but is very easily made workable again with the water sprayer. It is preferable to use a water sprayer to extend blending time, rather than adding more medium because if too much medium is added the paint will become tacky.

Thick Slow Medium
Works in the same way as the more fluid Slow Medium, but with its more paint like consistency it can be used for spreading and diluting paint without making it too thin or runny.

Liquefying Medium
Is a low viscosity acrylic extender. For fine detail, stir into paint creating a 50/50 mixture or until desired viscosity is reached. For airbrush techniques, mix in small amounts and stir until an ink-like consistency is reached which suits your airbrush.
Gels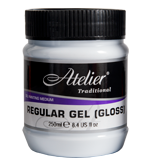 Regular Gel (Gloss)
An acrylic gel with a smooth buttery consistency. Use as a paint extender to adjust gloss and transparency without altering consistency. Mix with paint to increase body or apply directly on top of paint layer for a transparent textural effect. Holds moderate peaks and texture for impasto effects. Ideal for glazing. Milky color becomes transparent when dry.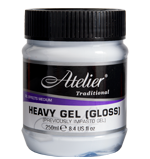 Heavy Gel (Gloss)
A thick, fast drying, waterbased acrylic gel, designed to exaggerate structure and sharpen textural edges of the paint. It can be used as a very strong adhesive for bonding heavy objects. Can be mixed with the paint, overpainted once dry, or applied on top of a paint layer for a transparent textural effect.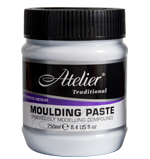 Moulding Paste
A very thick and textural paste made from calcite grit. It has the same flexibility as the paint and is used to create strong textural interest at any stage in a painting's process. Dries white and can be mixed with the paint to produce a colored ground, or painted over once dry.
Additives
Paint Additives like mediums, change the properties of paint, however they are different to mediums in that they do not contain a binding agent. This means that only a certain amount of additive can be mixed with acrylic paint before it becomes unstable.

Retarder
A paint additive designed to slow down the drying time of acrylic paint. It may be added to other Atelier mediums to increase open time. Note: Retarder does not contain a binding agent so to avoid creating an unstable mixture, it is recommended to mix no more than 10% with acrylic paints.

Unlocking Formula
Allows artists to re-open Atelier Interactive even after it is touch-dry. Once the paint is re-opened, new paint can be blended back in, existing paint edges can be feathered or whole sections can be removed with a rag to reveal under layers. Spray apply using the Atelier Fine Mist Water Sprayer.