Atelier Free Flow
Atelier Free Flow utilizes the latest advances in pigment and polymer technology, making Atelier Free Flow the most fluid and vivid artists' acrylic in the world. It can be used as a stand alone acrylic paint or incorporated with a heavy bodied acrylic such as Atelier Interactive. This combination of consistencies will add more contrast and texture to your work.
Regardless of your application or technique, you'll find Atelier Free Flow just glides from the brush. It requires very little dilution to reach your preferred consistency. For an artist, this ensures brilliant pigment strength is retained, painting light over dark colors is far easier, and the integrity of the paint itself remains strong and durable.
"They have a wonderful fluidity and transparency while retaining high pigment content even when used in washes. The drying time is rapid, allowing for successive overlays of colour. For gestural mark-making, they are likewise superb."
David Van Nunen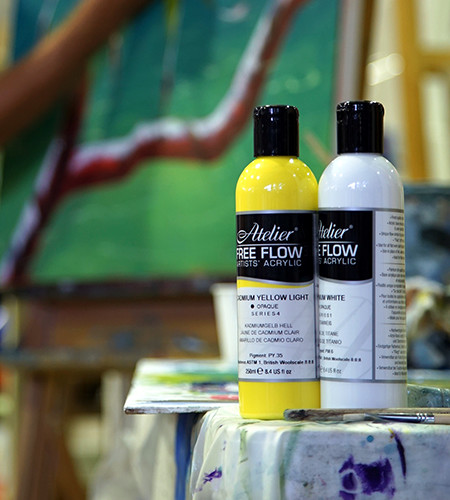 Looking for a paint that can keep pace with your creativity? Try Atelier Free Flow Artists' Acrylic, a vivid, lightfast, artist-quality acrylic with a wonderful, free-flowing consistency and remarkable versatility. An exciting substitute for ink, watercolor, or gouache, it's perfect for washes and glazes, mixed media pieces, art journaling, gestural painting, quick studies, and much more.
Chroma used the latest advances in pigment and polymer technology to develop these paints. They can be used straight from the bottle or diluted with water for greater transparency. They dry to a rich matte finish with a velvet sheen that seems to glow from the inside. Because they dry so quickly, overpainting can proceed very rapidly and layers don't get muddy.
Atelier Free Flow product benefits:
maximum pigment load and excellent lightfastness
amazing fluid consistency, that just keeps flowing!
velvet matte finish with rich and vibrant color
a versatile substitute for ink, watercolor or gouache
use for flat, even paint application & fine details
ideal for mixed media, Aboriginal and Chinese art
compatible with Atelier Mediums
can be used on canvas, paper and board
36 colors available in 60ml, 250ml and 500ml bottles.
due to its brilliant, matte finish Atelier Free Flow should NOT be varnished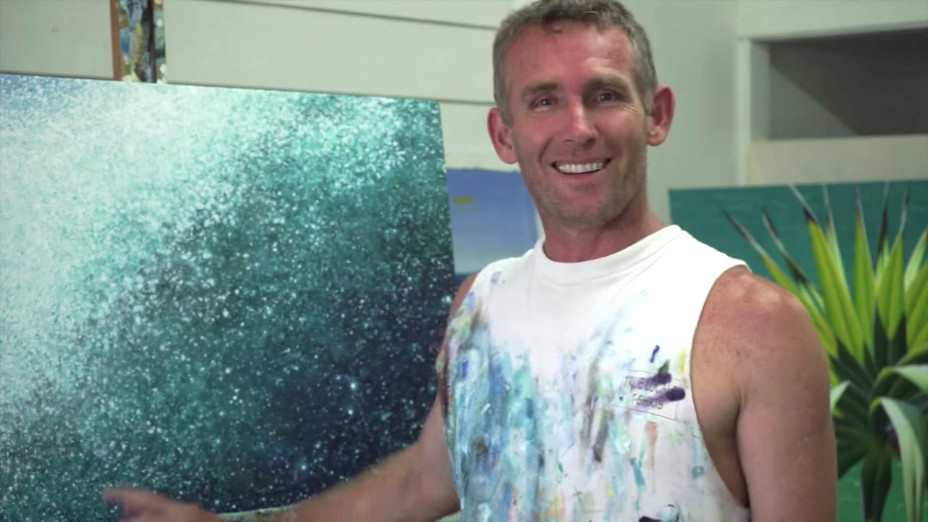 "...the paint really does flow beautifully off the brush, without losing any strength of colour."
Mark Waller shares the reasons why he uses Atelier Free Flow. Showing how mobility of this paint makes it incredibly versatile, he demonstrates painting a wave with an acrylic splattering technique.
Free Flow Painting Techniques
A very low viscosity and smooth, neutral finish make Atelier Free Flow ideal for these popular painting techniques and styles:
Watercolor Techniques
Atelier Free Flow can be diluted for traditional watercolor application. When applying Atelier Free Flow on paper, it blends harmoniously with the surface qualities of the paper and provides a neutral surface on which to continue painting. In this way, it can also act as a primer for over-painting in traditional watercolor or gouache techniques.
Gouache Techniques
Atelier Free Flow presents artists with a superior choice over gouache – it handles just like a gouache, however being an acrylic, once dry it is very tough and durable. Traditional gouache tends to dry to a chalky and fragile finish that cannot be easily overpainted. Atelier Free Flow dries to a velvet matte finish and retains its vibrancy of color - other matte paints usually look dull by comparison.
Mixed Media Techniques
Atelier Free Flow's matte velvet finish accepts pencil, pastels, crayons and permanent markers well. It adheres to magazine print and similar gloss surfaces strongly and will not scratch off. Additionally, when applied straight from the bottle, an opaque brush mark can be achieved without thin paper buckling heavily from excessive moisture.
Acrylic Painting Techniques

Atelier Free Flow can be used with other acrylic paints at any stage of the painting process. For example, it is particularly useful for fine detail, whereas a heavy body acrylic such as Atelier Interactive may be used to create dramatic textural effects in the same painting.

Atelier Free Flow is great for powerful glazing techniques. It can also be mixed with Atelier Mediums for a range of new acrylic painting mixtures, effects & techniques. Please note: Unlocking Formula only works with Atelier Interactive.
Ink Techniques

Artists who currently create expressive brush marks with ink, but are sometimes disappointed with inks remaining too transparent, will thoroughly enjoy using Atelier Free Flow. Its fluidity is wonderful for long graceful strokes of heavily pigmented color and it retains subtle brush marks beautifully.
Free Flow with Resin


Artist Julia Dover uses Atelier Free Flow dropped with resin to create unique artworks.  As this is an experimental technique and there are lots of resins on the market, please test prior to application!  To find out more on this technique and on Julia, please visit Julia on Instagram or on YouTube.