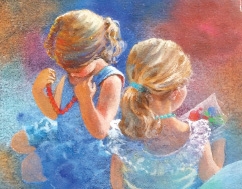 Atelier Free Flow Artists' Acrylic can enhance a variety of applications or techniques, from watercolor to gouache to acrylic. It is also very useful for particular genres of painting, such as Miniature Art. Miniature art, as defined by the Australian Society of Miniature Art, is based on size, not a painting style. For a 2-dimensional work, the perimeter must not exceed 40cm (15.7"). For example, a painting may be 10cm x 10cm, or any variation of this size, such as 12cm x 8cm. In a miniature portrait, the depiction of the human head must be no larger than 3.8cm (1.5″) from chin to crown.

Miniature art has a tradition going back 100s of years, from the illustrated letters of medieval manuscripts to the exquisitely detailed paintings found on lockets and snuff boxes. Today, miniature art can be representational or abstract, and in 2015 a major Australian painting prize for landscapes was awarded to a miniature painting.
Recently, members of the Australian Society of Miniature Art had the opportunity to try Free Flow for their works. Overall, painters found Free Flow to be wonderful medium for creating these tiny jewels of paintings. They found Free Flow to be useful for the fine details typically found in miniature art, and worked well for opaque passages as well as glazes.
Below are some comments from members Jan Hook, Madeleine Szymanski and Jennifer O'Young, along with examples of their Free Flow Paintings. To learn more about miniature art, please visit www.asmansw.com.
Jan Hook: I enjoyed working with Free Flow and found that the colours were similar to oils – I was able to use my normal oil colour knowledge with colour mixing to achieve similar colours, e.g. burnt umber + ultramarine blue = black. The only thing I found annoying was that acrylic dries darker. I generally had to do two layers to get a solid coverage. With fine detail I did use water to thin the paint. I also used dry brushing which was effective.
Madeleine Szymanski: I used them both transparently and as opaques. A new thing for me was the ability to glaze over opaques, also to keep adding more layers to change passages that weren't working. I think this paint is very suitable for producing the fine detail needed for miniature work.
Jennifer O'Young: I really enjoyed using these paints. I will purchase some ASAP. It took a while to master dripping sparingly. I must say, working with watercolour, I'm glad that I just re‐wet and re‐use. I certainly got the hang of careful use, and I like the way a single drop can be dispensed. I look forward to further experimentation. Thank you for facilitating this chance to try this product.
Jill Swart: I used the Atelier Free Flow as a solid use of colour, like gouache. So with the transparent colours I needed several coats to make them opaque. They are a VERY matte finish also.