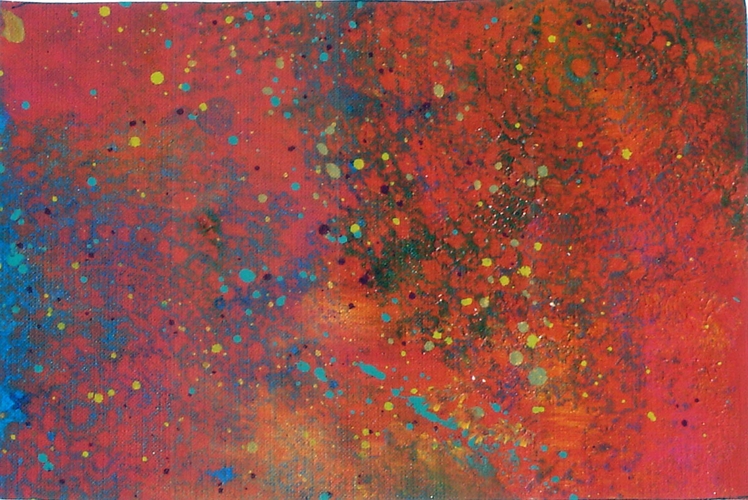 Atelier Interactive dries without a "plastic" look, with very low sheen yet high color saturation. But it is important to protect any painting with a finishing varnish and furthermore, you can choose to alter the final sheen of your Interactive painting.
Chroma offers two types of varnishes – water-based and solvent based. The advantage of using water-based varnish is that it is water-based, but it is non-removable. The advantage of using a solvent-based varnish is that it is removable with mineral spirits, but there are fumes involved, which some artists chose to avoid.
Both types of varnishes are applied by brush, so use a soft brush reserved just for varnishing. The size of the brush should be appropriate to the piece. Do not overwork a varnish: just lay down one stroke at a time, slightly overlapping, and do not work back into it. It usually takes 2-3 coats of a varnish to achieve an even sheen. You can work one horizontally for the first coat; once dry, the second coat, applied vertically, will cover the holidays (the sections where the varnish didn't catch.) For some works, applying varnish in the direction of the painting's brushstrokes will provide a more pleasing result. Practice varnishing on an old or failed piece whenever you try a new varnish or sheen. Varnishing isn't difficult, but with any new skill, practice makes perfect!
Matte, Satin and Gloss Varnishes
Matte, Satin and Gloss Varnishes are water-based, non-toxic and self-leveling. They can be used either as an over-varnish for acrylic painting, providing a non-tacky protective coating, or as a medium to change the sheen levels of acrylic paints. Matte, Satin and Gloss Medium & Varnish are mid-viscosity products made from hard acrylic emulsion. They are non-removable, however they can be overpainted. They can also be followed with a solvent-based varnish.
Matte Varnish will reduce the sheen, and is a good varnish to apply if you are having trouble photographing a naturally glossy painting. After photographing, apply a gloss varnish (water-based or solvent based)
Satin Varnish restores the painting to Atelier Interactive's original satin finish. It is the most popular finish: not too dull, not too shiny.
Gloss Varnish will enhance darker colors and provides a more oil-like finish.
The two most important things to remember about using a water-based varnish are:
Wait until your Atelier Interactive painting has cured. This is generally about 2 weeks from the last time you worked on it, but the time will vary depending on how thickly you applied the paint, your surface, the humidity and what mediums you used. For example, an impasto painting that used lots of Thick Slow Medium on panel will take longer to cure than one painted with thin layers on canvas.
Apply an isolation coat first. This step is often missed when varnishing acrylic paintings, but is critical. Varnishes should be applied on a non-absorbent surface, and an isolation coat seals your painting and protects it. The isolation coat also helps to prevent the cloudiness that can occur with Matte varnishes. Apply 2 coats of Binder Medium or Fast Medium/Fixer to seal the surface of the painting before varnishing. Bear in mind though, that an isolation coat, like a water-based varnish, is a permanent addition to your artwork.
Chroma Solvent Finishing Varnishes – Invisible, Satin and Gloss
Chroma Solvent Finishing Varnishes are designed to protect finished acrylic or oil paintings. Because of their ease of use, we recommend using a solvent over a water-based varnish for artists new to varnishing.
Invisible Solvent Finishing Varnish maintains the low sheen look and does not alter the surface quality of a painting. It can also be used on oil paintings as a "retouch" varnish, while waiting out the advisable 3-6 month period for an oil painting to cure before applying a heavier protective varnish.
Satin Solvent Finishing Varnish contains a matting agent and the container needs to be shaken before use to make sure it is evenly suspended. For full bottles, remove some varnish so you can shake the contents easily, then return to the full bottle before using. Satin varnishes should never be diluted with turpentine, because the ratio of matting agent to acrylic is critical.
Gloss Solvent Finishing Varnish can be used for a more oil paint like look. Apply as is for a full gloss, usually one coat. To reduce gloss, add mineral turpentine to your taste. Try two parts varnish to 1 part turpentine, up to 1:1 for less sheen. NOTE: This varnish contains an anti-mold additive that is diluted when you add turpentine, so to maintain the mould protection for tropical conditions dilute with Invisible Varnish instead.
These three varnishes are non-yellowing, self-leveling and protect against mold. They are strippable, which allow your painting to be cleaned more easily at a later date by swabbing with mineral spirits. Be sure to apply in a well-ventilated area.
Because they are solvent varnishes, you can apply them carefully to your Interactive painting before it has fully cured, but your painting must be touch-dry. The isolation coat is still recommended though, because you can remove your top varnish at a later date and come back to the protected painting. With an Archival Oil Painting, wait at least 3-6 months prior to applying a final varnish.
Clean your brush with mineral spirits when finished.
To watch a video on water-based varnishes, click here.
To watch a video on solvent varnishes, click here.
To download the Varnishing How To Guide click here.