(To access past newsletters, please click here.)
ENTER TO WIN a set of Atelier Interactive Acrylics - see details below!
NOTES FROM JIM COBB
ASK JIM
Before I begin, I hope that everyone interested in the new Mediums we launched recently has already found the one that suits their working style. Please see my video and more information on the new Mediums below.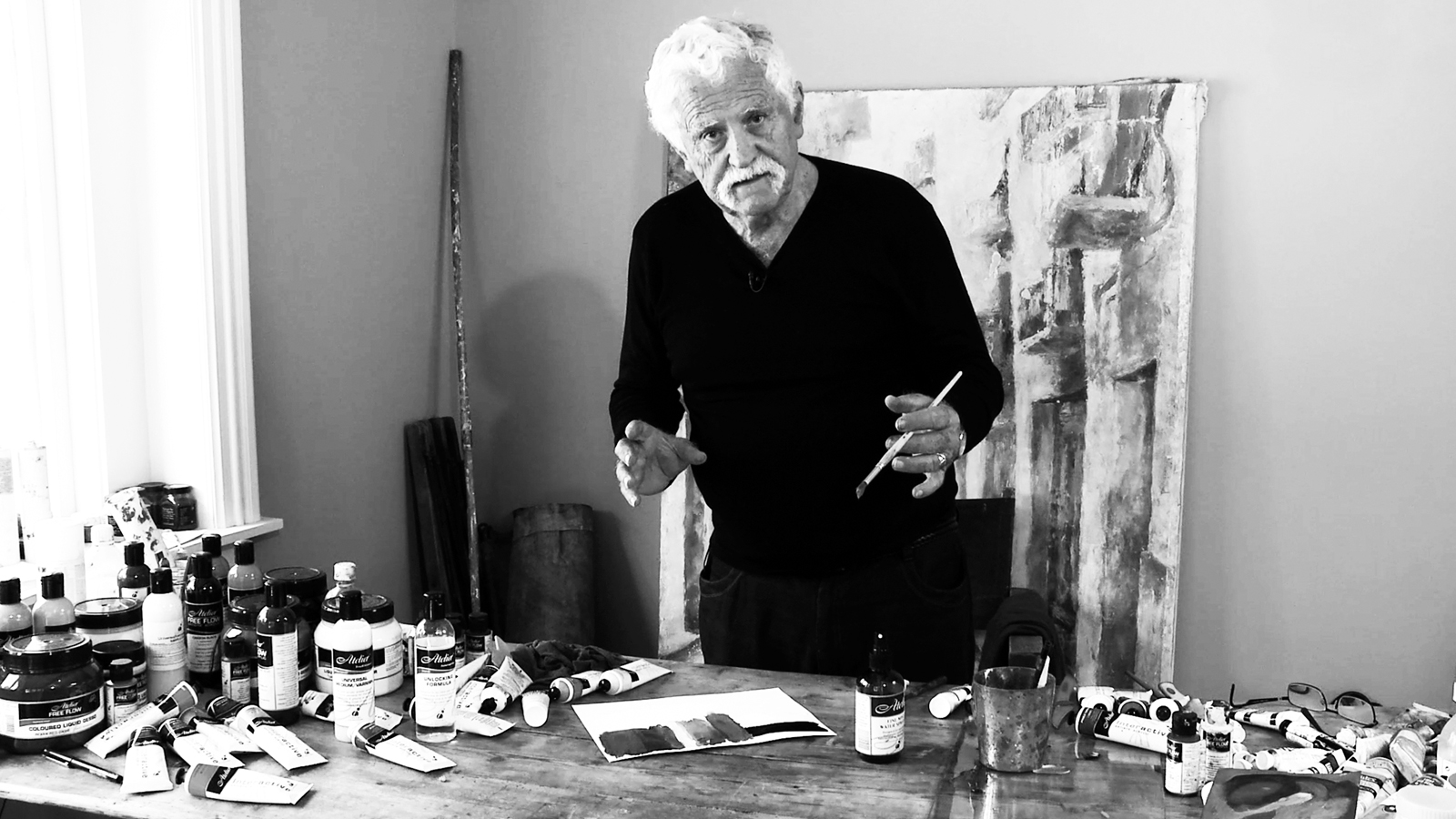 Ask Me Your Questions
Do you know that Chroma has a technical service facility that can help you with your painting questions? I know that there are many artists who would like to ask questions and emailing them to me is the perfect way to get an answer. Email your question to marketing@chromaonline.com making sure to put ASK JIM in the subject line and I will respond. Please include your phone number in case I need to discuss your question in a little more depth.
Sharing Information
I would also like to hear from artists who have already used the new Mediums and who might like to send us digital images of what they have done with them. Also they may have questions to ask, or positive comments perhaps?
Colour Mixing in the New Year?
I know that a very large number of people are interested in colour mixing and with access to the internet it is possible to show colour mixing as a live painting process right on the screen. I think I can present a whole series on this subject next year. I want to forewarn you that I am not fond of colour theories and colour wheels but prefer to just intermix colours to reach a desired end point which is actually what most people want to know about anyway. Am I heading in a good direction do you think? Why not email me your answer, or what else you'd like me to cover in this Newsletter to the email address shown above.
The Atelier Interactive Difference
Because Atelier Interactive and Matisse are the most used artists acrylics in Australia we do get asked what the difference is. They are both professional quality artist colours and both work for traditional techniques. The difference is that Atelier Interactive lets you choose your drying time! And you can make this decision at any point as you go along. Use Unlocking Formula whenever you need more time to finish something, or don't use it if you don't need to. This is the difference between Atelier Interactive and Matisse. You will also find that all of the imported brands are traditional acrylics which cannot be kept wet on demand either.
Here is a question for you
How do you handle wet or very humid conditions? You must have noticed that very high humidity slows down your drying process even if you are using traditional paints. What I do in this situation, where obviously I can keep my paint wet easily but I can't dry it off easily, is that I move on to a different painting and allow nature to take its course.
Established Mediums
We have been making acrylics at Chroma since 1965 and, like every company in the business, we have a line-up of traditional Mediums that artists have been using and relying on for a long time. For this reason some of the established Mediums should not be withdrawn from the market.
The New Mediums
We have been working on these, actually for years, because I wanted to have Mediums that would work in both the traditional format and in the interactive format as well. Every artist uses traditional techniques a lot and I can now give them access to controlled interactive drying using the same set of Mediums.
The Unlocking Formula Method
For traditional techniques avoid using Unlocking Formula. For Interactive use add Unlocking Formula with the paints and Mediums either by dipping your brush into the Unlocking Formula as you go along or use an atomiser spray to keep an area activated. Actually we have a great Fine Mist Sprayer in our range you can buy which is specially designed for this job.
The New Mediums all have a double function: use with Unlocking Formula for prolonged blending, and use without Unlocking Formula for standard use.
The mediums are arranged in a viscosity ladder making it easy for artists to match up the medium to the work that they are doing.
They all dry to a satin finish which matches the heavy bodied paints Atelier Interactive and Atelier A2.
It is important that these Mediums form a coordinated approach to the use of Mediums which artists should find very useful.
All the established mediums, such as Slow, Fast, Universal, etc., remain in place.
I think the Viscosity Ladder concept (see last month's issue) which we are using to describe the different Mediums should be very helpful for people who want to match a Medium to the work they do. I need to point out that Clear Painting Medium from the list of established Mediums does work in both the traditional and interactive ways, and sits on the Viscosity Ladder between Middle Medium and Thin Medium.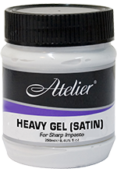 Atelier Heavy Gel (Satin)
This gives you the body and texture of oil paint – even Heavy Bodied Acrylics need a boost to look like oil paints.
Available in 250ml pots

Atelier Thick Painting Medium
Used to lubricate your painting without losing viscosity – it extends the heavy bodied consistency of the paint itself. It simply will not work unless you use at least one part to one part of paint, because the purpose of the Medium is to create a wet layer, ie. a blanket of wet paint, and once this is established you will not need to spritz with Unlocking Formula much or perhaps not at all, depending on the weather.
When you have finished a layer it can be dried easily by applying warmth (ie. sunlight, draft from an air conditioner or hair dryer).
Available in 250ml bottles and 1L bottles.

Atelier Middle Painting Medium
This has a juicy consistency good for lubricating and smoothing out thicker paint and for glazing and so on. It is thinner than the paint itself.
Available in 250ml bottles.

Clear Painting Medium
This is the most popular Atelier painting medium and sits between the Middle Medium and the Thin Medium on the Viscosity Ladder. When mixed with Atelier Interactive, you create easy-to-manipulate mixtures that are also useful for edge blending wet over dry, for scumbling and for glazing. You can over paint layers once they are dry, but you can also use the Unlocking Formula to extend wet blending.

Atelier Thin Medium
At first this seems to be very watery. It liquefies acrylic dramatically and turns out to be surprisingly useful.
Available in 60ml and 250ml bottles.
Please note:  The above mediums are being added to the existing, long established range of Atelier Mediums - the Slow, Thick Slow, Universal, etc. There are no immediate plans to discontinue a medium that artists may depend on and love.
Answer the below questions and be entered to win 1 (one) of 10 (ten) Atelier Interactive Sets containing the following 80ml colours: Titanium White, Arylamide Yellow Light; Quinacradone Magenta; Pthalo Blue; French Ultramarine Blue; Burnt Umber; Napthol Red Light; Yellow Ochre; Burnt Sienna.
*Contest ends 31 December 2018. Open to residents of Australia only. Only one (1) entry per individual will be accepted. No purchase necessary. To enter participants must answer the questions on the New Mediums. The Prize is 1 (one) of 10 (ten) sets of Atelier Interactive Acrylics (assorted colours and/or mediums) valued at $100 or more. Prizes are not transferable or exchangeable and cannot be taken as cash.Winners will be notified via email by January 31, 2019. Not valid where prohibited by law.  For a list of winners,  please contact marketing@chromaonline.com. Please click here to view our privacy policy and our cookie policy.