(To access past newsletters, please click here.)
ENTER TO WIN a set of Atelier Interactive Acrylics - see details below!
NOTES FROM JIM COBB
How To Get The Effects You Want From Our New Range Of Acrylic Mediums
The end of the promo we've been advertising in previous issues is fast approaching. I hope you have already been able to use this website to help you choose the Mediums that you feel will help you get the effects you are after.
Hopefully you've tried the free sample tubes you've persuaded your participating Atelier retailer to order for yourself and your friends. If not, ask them to contact Amanda Rose at Chroma Marketing in Sydney. Time is running out. Act now!
†Our new range of Mediums have a logical sequence, graded from very thick to very thin. You will need to reference all this material on this website and choose accordingly.
I hope that the logic of this Viscosity Ladder of Mediums will make it very simple for you to choose what you need.
†The Mediums are formulated to match the satin finish of the paint.
The two matte paints Jo Sonja Acrylic and Atelier Free Flow have special Mediums to maintain their matteness.
†Final surfaces can be left without varnishing or can be finished with your personal choice of varnish from our range shown on our website.
†These new mediums work in two ways:

1. They function as traditional Mediums but
2. When you use them with Unlocking Formula you can keep your painting wet as long as you like. Unlocking Formula is therefore vital if you want to take advantage of the Atelier Interactive's "interactive" properties.
A Viscosity Ladder for Our New Mediums


I am setting out a recap of the mediums in a ladder progression. They appear below starting with the thickest. All the above dry to a satin finish which matches our heavy bodied Atelier acrylic paints.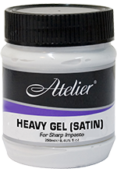 Atelier Heavy Gel (Satin)
This gives you the body and texture of oil paint – even Heavy Bodied Acrylics need a boost to look like oil paints.
Available in 250ml pots

Atelier Thick Painting Medium
Used to lubricate your painting without losing viscosity – it extends the heavy bodied consistency of the paint itself. It simply will not work unless you use at least one part to one part of paint, because the purpose of the Medium is to create a wet layer, ie. a blanket of wet paint, and once this is established you will not need to spritz with Unlocking Formula much or perhaps not at all, depending on the weather.
When you have finished a layer it can be dried easily by applying warmth (ie. sunlight, draft from an air conditioner or hair dryer).
Available in 250ml bottles and 1L bottles.

Atelier Middle Painting Medium
This has a juicy consistency good for lubricating and smoothing out thicker paint and for glazing and so on. It is thinner than the paint itself.
Available in 250ml bottles.

Clear Painting Medium
This is an existing medium but it is the most popular medium in our range. It is not in this promotion but it sits in a position slightly looser than Middle Medium and many of you probably already know how to use it.
Available in 250ml bottles.

Atelier Thin Medium
At first this seems to be very watery. It liquefies acrylic dramatically and turns out to be surprisingly useful.
Available in 60ml and 250ml bottles.
The Best Mediums to Use with Jo Sonja's Acrylic and Atelier Free Flow Colours
Jo Sonja Acrylic and Atelier Free Flow both dilute sharply with just water, which can be thought of as if it were a medium itself.
Atelier Free Flow is a little more fluid than Jo Sonja, but both have a matte finish and work well together. You can use Jo Sonja to enlarge your Atelier Free Flow palette because the Jo Sonja range has many more colours.
The two Mediums from the Viscosity Ladder which both retain a matte finish are:

Atelier Holding Medium
When Holding Medium is added to the above paints they body up and are easier to control in a more painterly mode.
Available in 250ml and 500ml bottles.

Atelier Thin Medium
Atelier Free Flow and Jo Sonja's Acrylic are matte and are already more flowy paints but become very liquid when Thin Medium is added. See the videos above.
Available in 250ml bottles.
Please note:  The above mediums are being added to the existing, long established range of Atelier Mediums - the Slow, Thick Slow, Universal, etc. There are no immediate plans to discontinue a medium that artists may depend on and love.
Answer the below questions and be entered to win 1 (one) of 10 (ten) Atelier Interactive Sets containing the following 80ml colours: Titanium White, Arylamide Yellow Light; Quinacradone Magenta; Pthalo Blue; French Ultramarine Blue; Burnt Umber; Napthol Red Light; Yellow Ochre; Burnt Sienna.
*Contest ends 31 December 2018. Open to residents of Australia only. Only one (1) entry per individual will be accepted. No purchase necessary. To enter participants must answer the questions on the New Mediums. The Prize is 1 (one) of 10 (ten) sets of Atelier Interactive Acrylics (assorted colours and/or mediums) valued at $100 or more. Prizes are not transferable or exchangeable and cannot be taken as cash.Winners will be notified via email by January 31, 2019. Not valid where prohibited by law.  For a list of winners,  please contact marketing@chromaonline.com. Please click here to view our privacy policy and our cookie policy.